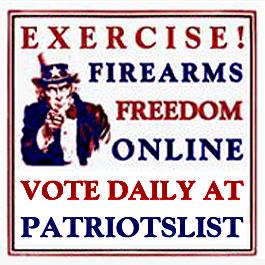 The Big Idea at Patriots List has always boiled down to this: Do firearms friendly Americans have the online tools and resources needed to exercise their whatever god-given and constitutional right to private gun ownership and can we easily find them online? Or will they be censored or limited out of existence by online monopolies such as search engines and social networks? The ORIGINAL big idea here was to build a firearms and ammunition friendly classifieds site like Craigslist for Americans….
Craigslist banned guns and ammo ads many years ago! This was a site intended to give Craigslist users who were also gun owners options after Craigslist disallowed the ability to post firearms and ammunition classified ads. This site and several similar popped up fast. I liked several of the others and decided to change the function of this site to contain a simple searchable list of websites in addition to classifieds, and rank them top to bottom by visitor clicks out.
It's taken years to achieve what we currently have, a simple clicks out ranking system. A visitor simply clicks on any listed site and a vote is tallied for that site every 24 hours. Voters can return to vote every twenty fours. Clicks are registered by clicker ip's. The site with the most clicks OUT always sticks to the top, earning much more generic website traffic. Sites want legitimate traffic! Click to vote daily for your favorite sites to help drive them to the top.
There are bills to pay for this site so sponsors who h9ave approved me for affiliation appear in a featured at the top area with a small flash symbol behind it. The sponsor rank always stick-s to the top of Patriots List.
In order to remain unbiased and help support the online firearms industry and enthusiasts, it was decided to make it a firearms friendly search engine top site.
Those of you who have followed this website in the past know it has changed many times over the years.
It began as a classifieds site shortly after Craigslist decided to no longer allow firearms and ammunition ads. At that same time other similar sites were coming online to help fuel the need. At that point it was decided to change the objective of PatriotsList. It then became a TOP SITE LIST. It was managed with a script that at the time was great. That script no longer became supported by its creators.
This site became simply a place where I kept a list of the TOP SITES that I had. These were Top Gun Classifieds, Top Ammunition Sites, Top Gun Parts, Top Gun Shops as well as now Firearms Friendly.
In order to allow more website creators and owners to list their sites, the script was updated to something more easily managed and regularly updated. It now includes links to all of our sites, our sponsor sites and anyone who has a firearms friendly site that wants to list here.
Sign up to list your favorite sites. Tell your visitors to visit daily and click the thumbs up button next to your link to help drive it to the top of Patriots List!